The morphologic
anatomy
of the liver is described as 2 main and 2 accessory lobes.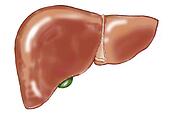 The more recent functional anatomy of the liver is based on the distribution of the portal pedicles and the location of the hepatic veins. The liver is divided into 4 sectors, some of them composed of 2 segments. In all, there are 8 segments. According to the anatomy, typical hepatectomies (or réglées) are those which are performed along anatomical scissurae. The 2 main technical conceptions of typical
hepatectomies
are those with preliminary vascular control (Lortat-Jacob's technique) and hepatectomies with primary parenchymatous transection (Ton That Tung's technique). A good knowledge of the anatomy of the liver is a prerequisite for anatomical surgery of this organ.
BUY NOW and save 21$
Acland's DVD Atlas of Human Anatomy, Set of Six DVDs: The Upper Extremity, The Lower Extremity, The Trunk, The Head and Neck, Part 1, The Head and Neck, Part 2, and The Internal Organs